Since 2008, we have seen phenomenal increases in the number of households served. 2015 was the first year that we saw a slowdown. This slowdown continued through 2016, but the numbers starting rising again in 2017. Below are the statistics for the last six years.
Estimates compiled by Preble Street and Good Shepherd Food Bank show that roughly 203,000 Maine people are struggling with hunger. In 2019 the Ecumenical Food Pantry's clients included 3,718 family visits, which was an 11% increase over 2018.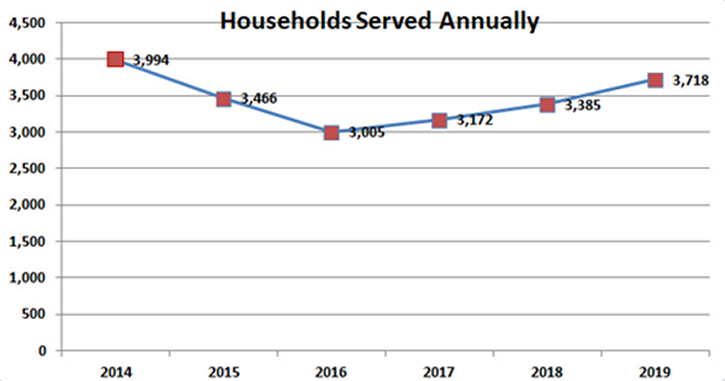 Visitors to the Ecumenical Food Pantry come from a wide spectrum of Mid-Coast towns, with the majority (70%) from the villages of Damariscotta, Newcastle, Nobleboro, and Waldoboro. Visitors from other towns include 3% or less of our clients.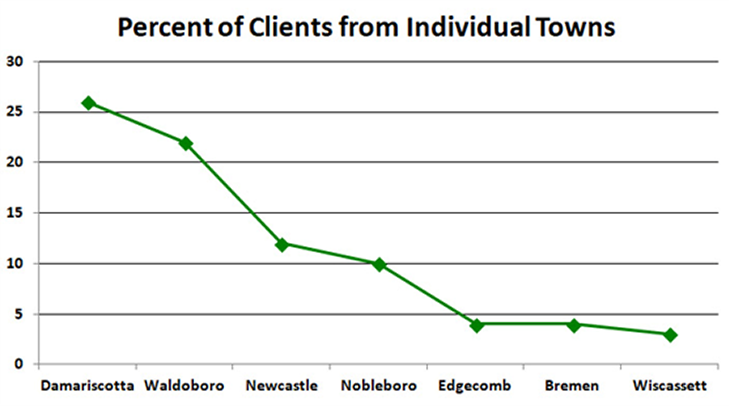 We distribute over 2,000 pounds of food each week. This comes from food received from food drives, bi-monthly deliveries from Good Shepherd Food Bank and quarterly shipments from The Emergency Food Assistance Program. Fortunately, because we are a totally volunteer organization, less than 1% of every dollar is spent on overhead.
We could not survive without the generosity of our neighbors – 71% of our working capital comes from individuals and Thanksgiving basket donations.
SOME ADDITIONAL FOOD PANTRY FACTS
The Ecumenical Food Pantry is one of 600 agencies partnered with Good Shepherd Food Bank
15% of our recipients are seniors (an increase of 5% over 2019)
23% of our recipients are children (3% drop from 2019)